British flightgear in general
Latest update 30 December 2006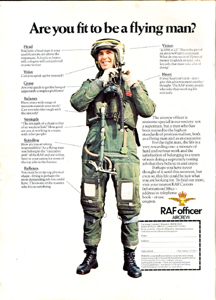 A 1973 RAF pilot recruitment ad from the Air Enthusiast November 1973 issue. The pilot is wearing a Mk 2A helmet, P or Q oxygen mask, probably a Mk 17 life preserver, a Mk 10 Aircrew Immersion Coverall, Mk 7C internal anti-g trousers (not visible in the picture but it is revealed by the right-hand anti-g hose connection), aircrew boots 1965 Pattern, and white gloves.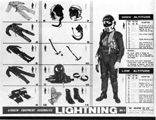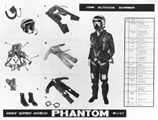 Left: December 1966 issue of Lightning Mk.3 aircrew equipment assembly.
Right: Mid 1970s aircrew equipment assembly for RAF and RN Phantom aircrews.
Click on the thumbnails to see the details.