P and Q-masks used in the Royal Australian Air Force (RAAF)
Message 1515, 14 March 2004:
Hi Bluelight, Great job!!That was fast and everything seem to be all right.Thanks.
Phoenix
Message 1508, 14 March 2004
Hi Phoenix et al, New cooling fan installed and working!! I have now uploaded the Aussie P&Q mask pictures that Phoenix sent to me on discrete. Phoenix, please take a look at the Best of Flightgear website to see if I have got it right. Any comments and additional information is welcome.
Cheers, Bluelight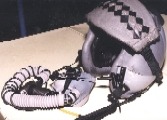 Complete setups with masks on HGU-55/P and HGU-26/P helmets
The helmet on the left has the new Quick Release Bayonets (QRB)
All pictures above are thumbnails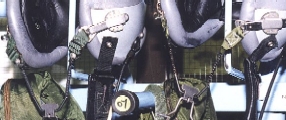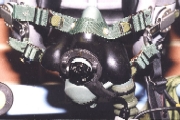 Masks set up with single bayonet (left and middle) and T-bayonet (right).
Note the different ways the chains are attached to the webbing on the
single bayonets in the picture on the left.
Note also that the T-bayonet setup has deleted the standard British P/Q
chain attachment system and the straps are screwed into the hardshell.
All pictures above are thumbnails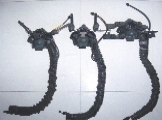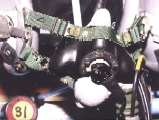 Masks set up with single bayonets and T-bayonets
All pictures above are thumbnails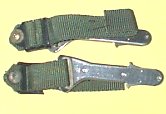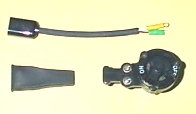 Single bayonets set up for P/Q-mask (left) and an British microphone with
a cord adapting it for use with a US CX-4707C/AIC comm cord (right)
Message 3612, Jul 27, 2001
Hi All, The mask in the picture is an RAAF's modification of a P or Q mask with P or Q face-peice,shell,tension arm,valves,mic assy and US type mask hose,comm cord CX4707,straight bayonets,three pin connector and CRU-60P. T bayonets are only used when a pilot who are unable to get a proper face seal with common mask type.For this type of mask the tension arm assy is removed and replaced with straps with bucklwhich are attached on to the shell with screws.
As for the helmet,it might look like a ordinarly HGU-55P but it uses the dual bungee visor system(the thicker black visor bumper as used in the RCAF's Gentex 190A).Also in place of the cloth type chin and nape pads, it uses the leather pad instead.Hope this informations helps.
Twang.
Message 3606, Jul 27, 2001
Hi Hartov, IMHO the mask is Brits, but from this angle I can't tell either P or Q. T-bayonet mask receivers are not that uncommon, though. Italy still has a large inventory of either MBU-5 and 12/P's with T-bayonets. Don't ask me why!
Cheers mate ;-) Moonbeam
Message 3605, Jul 27, 2001
Hi Shark, Strange wingman! The oxygen mask bayonet receivers on the HGU-55/P helmet caught my eye. It is seldom these days to see them set up for T-bayonets. What kind of mask is it? Is it a British P or Q mask? I seem to remember that the Aussies have been using British masks for quite a long time.
And another point; everybody (except the French, the US Navy, and a few more) seem to be flying HGU-55/P helmets in their high performance aircraft these days. Good for Gentex but a bit boring for our lot I would say.
Cheers, Bluelight
Message 3603, Jul 26, 2001
Hi Group, herewith attached you can find a picture of future Australian flight gears...
Have a nice and funny day!
Bye, Shark