MBU-7/P oxygen mask
Latest update 12 November 2006
The MBU-7/P mask was an experimental Pressure Demand Oxygen Mask developed by Sierra Engineering in the late 1960s. It was intended as a replacement for the MBU-5/P mask but was never put into production. The MBU-7/P was an improved version of the MBU-5/P designed to be more comfortable and greater stability on the pilot's face. Furthermore it was equipped with a new low resistance combined inhalation/exhalation valve in order to improve breathing characteristics. The edge of the facepiece had a double-walled seal. The two walls were separated by thin rubber membranes and the theory was that at high G loads the outer wall of the mask would collapse down on top of the inner wall and the mask would merely compress down over the wearers face rather than be dragged down his face by the G forces.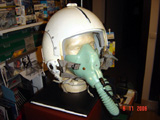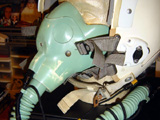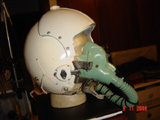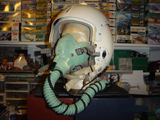 MBU-7/P oxygen mask mounted on an HGU-2A/P helmet. It is evident that this oxygen mask is developed from the
MBU-5/P. Note the unique light grey-green colour of the rubber. Pictures © Tomcat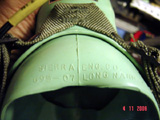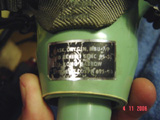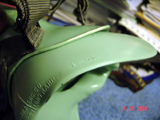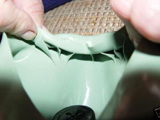 Far left: Manufacturer's model number (695-07) and size cast in the rubber Left: The manufacturer's label on the
hardshell Right: Date of Manufacture February 1970 Far right: Close-up of the double-walled seal. Pictures ©
Tomcat

A 1969-dated Sierra advertisement showing their new US Navy (756 series) and
USAF (MBU-7/P) oxygen mask designs. Neither made it into production.