How to get a custom fit liner out of a helmet
A poured styrene custom fit liner is easily removed from a helmet if you just use the right technique. A special extractor tool is helpful but not indispensable, a flexible metal ruler or another thin piece of metal may be used.
First you remove the earphones or just loosen them so that they hang freely in the helmet. If they are left in place they may obstruct the liner's movement.
Secondly you insert the extractor tool under the right hand or left hand corner of the rear half of the liner and slide it carefully forward a bit.
Thirdly you gently lift the tool and slide a finger or two under the rear edge of the liner. Pull the liner gently forward and remove the liner. You may have to slide it sideways too, depending on how tight fitting it is.
The front half of the liner can then be slid backwards and removed. You may have to wiggle it a bit to get it loose from any visor attachment screws under the liner.
The liner is installed in reverse order. First insert the front half of the liner and make sure that the rear edge is at right angles to the helmet centreline. Afterwards you have to wiggle the rear part back in.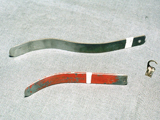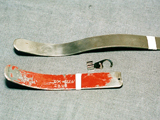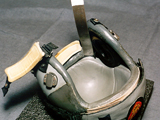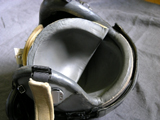 Two types of homemade liner extractor tools. These were made and used by RDAF ALSE technicians. The S-hook is only for size comparison. Third picture shows how the extractor tool is inserted under one of the corners of the rear half of the liner. Remember to remove the earcups before you remove the liner. In the fourth picture the rear liner is loose.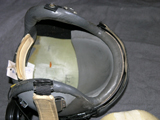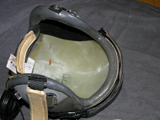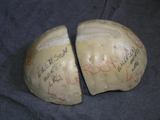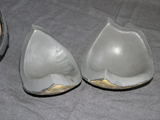 In the first picture only the front half of the liner is left. The second picture shows that there are no signs of glue or velcro inside the helmet shell. The two last pictures show the liner from both sides. Click on thumbnails to see larger pictures. Pictures © Bluelight